Testosterone Replacement and HGH Therapy in Orlando, FL
Ehormones MD Orlando, Florida has personalized Age Management and Hormone Replacement Therapies that will help you feel younger fast! Schedule an appointment today with our highly trained Medical Doctors specializing in Testosterone Therapy and HGH Therapy and customized nutrition and fitness regimens.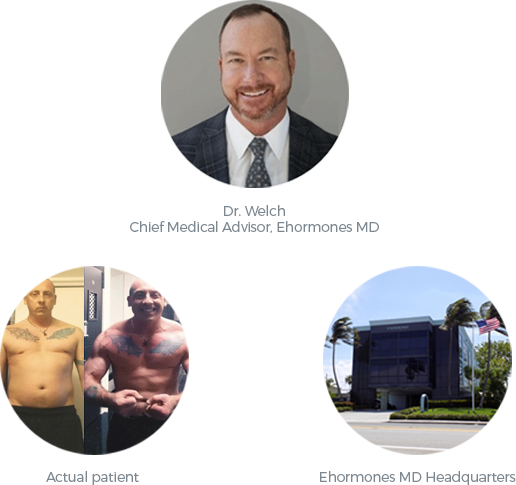 Think of testosterone as your powerhouse of all things manly, coming into play in the gym, at work, and even in the bedroom. With testosterone fueling your manhood, it makes this fact even tougher to hear: once you reach the age of 30 or so, testosterone levels start to take a nosedive.
Not only does hormonal imbalance change how you feel, but it can also have a surprisingly serious effect on how you look. For men dealing with low testosterone and other byproducts of aging, the whole experience can be a major blow to their confidence.
But you don't have to accept the knockout punch delivered by the unwanted side effects of getting older – especially not in an age when there are so many effective anti-aging treatments available. As a leading provider of age management medicine in Orlando and nationwide, Ehormones has mastered a comprehensive approach to health and wellness for men who are ready to take back their manhood – and their lives.
Age Management and Low-T Treatments for Men
---
If you could change anything about how you feel or look right now, what would it be? For many men over the age of 40, the wish list ranges from a boost in energy to a revved-up sex drive – and plenty of men wouldn't mind dropping a few pounds and that dreaded "gut," either.
Testosterone is the key to unlocking virtually every aspect of men's health and wellness… but unfortunately, your body slows down testosterone production sometimes around your 30s. So, when you're feeling tired, unfocused, or irritable, you can probably blame low-T levels.
But just because low-T is a "normal" part of aging, that doesn't mean you have to settle for a subpar quality of life. Thanks to advancements in age management medicine, including options like testosterone replacement therapy, you can get back to living your best life – and Ehormones MD Orlando can help.
Call Ehormones MD now for a Free Consultation (813) 315-3502. We're here 24/7 to help.
What are the Signs of Low Testosterone in Men?
---
Unfortunately, many men assume that looking and feeling less than their best is a required part of aging – but oftentimes, what they're actually dealing with are the symptoms of low testosterone levels.
From your body to your brain, dropping testosterone levels can produce a wide spectrum of symptoms, including:
Decreased sex drive
A loss of energy and stamina
Increased body fat, as well as stubborn weight gain
Erectile dysfunction
Decreased muscle tone
Difficulty focusing
Changes in mood, including depression and anxiety
Problems sleeping

Fatigue

Depression
With the HGH therapy and testosterone treatments that are in line with your needs and goals, you can kick these symptoms to the curb, once and for all.
What Causes Low Testosterone?
---
If you have even one of the symptoms listed above, you could be a great candidate for testosterone replacement therapy (TRT). But exactly what causes low T in men?
Aging is the most common cause, with testosterone levels starting a steady decline in your late 30s or early 40s. But there are also other reasons for low testosterone, including:
Certain medical conditions
Some medications
Previous injury to the testicular area
Metabolic/autoimmune disorders
Obesity
The causes behind your low T matter, because it sets us up for faster, better, and more sustainable success with your testosterone therapy plan.
Key Benefits of Testosterone and HGH Therapy
---
Ehormones is an Orlando a Low Testosterone Clinic that takes great pride in helping men change their lives for the better, harnessing the power of age management medicine to deliver a mile-long list of benefits:
An increase in sex drive and sexual performance
Increased ability to build muscle and burn fat
Improvements in mood and emotional stability
A boost in self-confidence and motivation
Improved memory, concentration, and focus
Better-quality sleep
Take Advantage of Services from the Best Age Management Clinic in Florida
---
Ehormones provides an outstanding selection of services for effective age management for men, including testosterone therapy, HGH therapy, and other anti-aging treatments. Our Orlando anti-aging doctors focus on tailored treatment plans to suit each patient's individual needs and goals, taking a comprehensive approach that includes:
A thorough initial assessment
Ongoing evaluations
Doctor-supervised programs
Fitness and nutrition support
High-quality supplements and medications
Your Trusted Testosterone Medical Center in Orlando, FL
---
Make the leap to age management medicine with help from Ehormones, and you'll be well on your way to reclaiming your title as the MVP of your manhood. With more than 30 locations across the U.S., including our Orlando anti-aging clinic, Ehormones is committed to making innovative, doctor-supervised hormone treatments for men accessible and convenient.
For more information about how our age management strategies and treatments can help you up your game, contact Ehormones in Orlando to schedule your consultation today.
Call today to schedule an appointment with our Testosterone and HGH Doctors: (813) 315-3502
The Ehormones MD Approach: How Testosterone Replacement Therapy Works
---
At our Orlando low testosterone clinic, you'll benefit from our comprehensive approach to HGH therapy and TRT. From day one, we'll work to get you on track towards optimal results – here's what to expect:
First, we'll do a detailed health evaluation to assess your symptoms, physical health, and medical, personal, and family history. We'll also complete a full lab panel so that we can measure your current hormone levels and pinpoint any other potential issues.
With all of the information we gathered, we'll build a personalized treatment plan that aligns with your goals, needs, and specific symptoms. Each patient receives a completely customized strategy, designed to maximize results with our advanced strategies, including:
a. Natural hormone balancing
b. Testosterone and HGH therapies
c. High-quality compounded medications
d. Professional-grade supplements
e. Nutrition planning
f. Fitness programs
g. Stress reduction support
Throughout the treatment process, your testosterone therapy progress will be supervised by the best low testosterone doctor Denver has to offer. As a result, we can optimize your treatment at every stage and adjust when/if needed. Your safety, health, and results are our top priorities – and you can count on us.
Get Back to Your Best Self with Orlando TRT and HGH Therapy from Ehormones MD
---
Don't let anyone tell you that getting older means giving up on feeling great – with the right age management solutions, you can make the most of life at every age. Ehormones MD is here to help you take action and fight back against low-T starting now.
Contact our Orlando low-T clinic to schedule your consultation today – TRT is safe and effective, so what do you have to lose?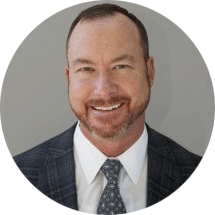 To achieve the best possible results for each patient, we must treat everyone as a unique individual. – Dr. Welch
Dr. Frank J. Welch M.D., M.S.P.H., F.A.C.P.M
---
Dr. Frank J. Welch is a leading advocate and expert in the field of hormone replacement therapy, wellness and disease prevention. Dr. Welch specializes in treating male patients with HGH Therapy and Testosterone Replacement Therapy.
Dr. Welch received his medical degree in from the University of New Mexico in 1993, where he also graduated Valedictorian in Chemical Engineering in 1985. He completed his residency in Preventive Medicine from Tulane University in 1998.
Dr. Welch is a Board Certified Fellow of the American Board of Preventive Medicine and is certified in American Academy of Anti-Aging Medicine (A4M). He has worked in both academic and public health civil service for 20 years and is a highly experienced age management and hormone replacement physician. Dr. Welch is certified in anti-aging medicine with a special interest in the treatment of andropause and hypogonadism.
If you are interested in becoming a patient of Dr. Welch, call Ehormones MD at (813) 315-3502 for a 100% Free Consultation.
Call Ehormones MD now for a Free Consultation (813) 315-3502. We're here 24/7 to help.
Contact Us
If you have any questions or want to book a treatment, you can contact us using contact form bellow.
We're here 24/7 to help.