Testosterone Replacement Therapy and HGH Therapy in Jacksonville
Expert HGH Doctors in Jacksonville, Florida, specializing in Anti-Aging Therapy, including Testosterone Therapy and HGH Therapy (Human Growth Hormone Therapy). Ehormones MD Jacksonville has personalized Age Management and Therapy Programs that can help you feel yourself again.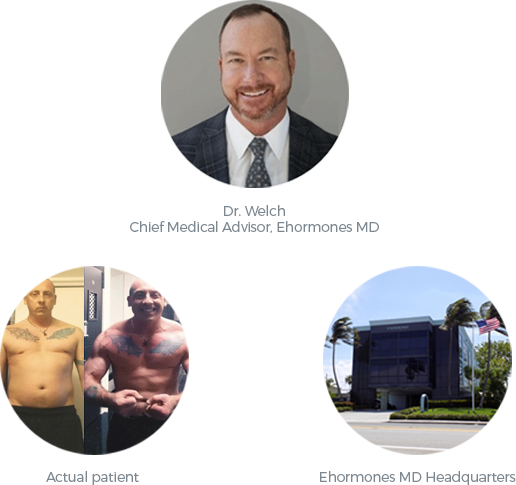 HGH Therapy and Testosterone Replacement: Jacksonville, FL
---
Even though there's plenty of talk about your 20s and 30s being the best years of your life, we'd argue otherwise: once 40 rolls around, you finally get to enjoy all the confidence, wisdom, and experience you've accumulated over the decades. But just when you're ready to hit your stride and enjoy the prime of your life, low testosterone levels can throw you for a serious loop.
Low-T levels take aim at your sex drive, body shape, and even your mental sharpness, chipping away at your manhood and leaving you feeling like a shadow of your former self. And even though low testosterone level is a pretty common condition that comes with age, it doesn't have to be something you live with.
In fact, there are more options than ever for tackling the symptoms of low testosterone and getting back to living your best life. With the right treatment plan from Ehormones anti-aging doctors, you can say goodbye to a low-T level and hello to a stronger, happier, and more confident you.
Call Ehormones MD now for a Free Consultation (800) 658-8858. We're here 24/7 to help.
The Signs of Low Testosterone Levels
---
Hormones are vital to the human body, and men are particularly reliant on testosterone. So, when it comes to the effects of low testosterone, symptoms can run the gamut from the physical to the mental:
Unwanted body fat and weight gain
Erectile dysfunction
Low sex drive or libido
Mood swings
Memory loss and decreased concentration
Poor quality sleep and chronic exhaustion
How HGH Therapy and Testosterone Treatment Can Be the Game Changers You Need
---
Many men don't even realize how much low-T has impacted their lives until they start to see and feel the results of testosterone replacement and HGH therapy.
If you're getting ready to jump back into the game, here are some of the benefits to look forward to:
Increase in muscle mass and decrease in body fat
Reduced symptoms of erectile dysfunction
Better sexual performance, stamina, and sex drive
Reduction in hair loss
Better sleep
Improved focus, memory, and concentration
Ehormones' Signature Approach to Anti-Aging for Men
---
With dozens of offices helping patients across the United States, Ehormones anti-aging clinics are proud to have distinguished themselves from the countless other hormone therapy providers in the country. It's not just our first-class patient experience or effective HGH and testosterone therapy programs that set us apart, it's our completely comprehensive approach to men's health.
When you become a patient at our Jacksonville testosterone replacement clinic, you're starting a journey to full-body wellness that includes:
Full supervision and medical advice from a board-certified doctor
An initial health assessment to establish benchmarks, in addition to ongoing monitoring for optimal progress
Tailored treatments designed to support your unique goals
Stress reduction, fitness, and nutritional support
Premium supplements and medication
Ehormones MD is the Jacksonville hormone clinic that can empower you to restore your quality of life and reclaim your vitality – why wait any longer?
Call Ehormones MD now for a Free Consultation (800) 658-8858. We're here 24/7 to help.
#1 Anti-aging HGH Clinic in the Nation
---
Our Ehormones MD HGH Doctors in Jacksonville offer the most advanced hormone testing to diagnose and recommend the best HGH Therapy and Testosterone Replacement Therapy Program for you.
It is a scientific fact that as we age our HGH and Testosterone levels decline. Ask yourself, are you suffering from any of the following low testosterone symptoms?
Fatigue
Lack of interest in sex (low libido)
Problems getting or keeping an Erection (ED)
Weight gain
Decreased muscle tone
Decreased exercise capacity
Depression
Memory loss
Mood swings
Wrinkled/loose skin
Trouble sleeping
The Ehormones MD Jacksonville HGH Clinic offers:
Highly trained Medical Doctors to closely supervise all Hormone Therapy Programs
A comprehensive review of symptoms, medical, family and personal history
Testosterone Therapy
HGH Therapy
Ongoing supervision
Fitness programs
Nutrition planning
Virtually every man will experience low testosterone and low hgh in his lifetime. In fact, many men start to experience the side effects as young as age 30. Thankfully, there is a solution. HGH Therapy and Testosterone Replacement Therapy can give a man his life back. It's time to enjoy your life again.
Find Your Solution for Low Testosterone: Jacksonville, FL
---
Ehormones anti-aging doctors have developed a diverse range of treatment options for low T, including testosterone replacement and HGH therapies that deliver fast, sustainable results. Our resident Jacksonville testosterone doctor has paved the way for a full team of hormone experts and licensed practitioners, giving outpatients the ultimate advantage in reclaiming their manhood.
Don't be one of the millions of men that let low testosterone production put a damper on the best years of their lives. Instead, let Ehormones' anti-aging clinic help you take action with a customized treatment and a tailored health plan that will have you feeling like an MVP once again.
Call today for a Free Consultation with our Jacksonville HGH Doctors: (800) 658-8858
Find our nearest office at:
Ehormones MD Jacksonville HGH Clinic
12086 Ft. Caroline Road
Jacksonville, Florida 32225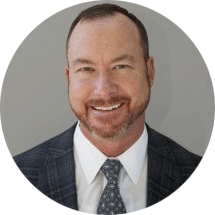 To achieve the best possible results for each patient, we must treat everyone as a unique individual. – Dr. Welch
Dr. Frank J. Welch M.D., M.S.P.H., F.A.C.P.M
---
Dr. Frank J. Welch is a leading advocate and expert in the field of hormone replacement therapy, wellness and disease prevention. Dr. Welch specializes in treating male patients with HGH Therapy and Testosterone Replacement Therapy.
Dr. Welch received his medical degree in from the University of New Mexico in 1993, where he also graduated Valedictorian in Chemical Engineering in 1985. He completed his residency in Preventive Medicine from Tulane University in 1998.
Dr. Welch is a Board Certified Fellow of the American Board of Preventive Medicine and is certified in American Academy of Anti-Aging Medicine (A4M). He has worked in both academic and public health civil service for 20 years and is a highly experienced age management and hormone replacement physician. Dr. Welch is certified in anti-aging medicine with a special interest in the treatment of andropause and hypogonadism.
If you are interested in becoming a patient of Dr. Welch, call Ehormones MD at (800) 658-8858 for a 100% Free Consultation.
Call Ehormones MD now for a Free Consultation (800) 658-8858. We're here 24/7 to help.
Contact Us
If you have any questions or want to book a treatment, you can contact us using contact form bellow.
We're here 24/7 to help.